Home
>
Products
>
Wire Rope Clips
> Simplex Wire Rope Clip
PRODUCT CATEGORIES
NOTE
※ Please be aware that there may be deviation and tolerance in noted measurements.
※ The breaking load is approximate, and will change depending on usage situation and environment. In addition, in the event test data is required, please make a separate request, and extra cost will be generated.
※ Specifications may change without prior notification.
※ Photos could show our products very clearly, but there may be a little difference in style because of different specifications.
※ Please do not copy and reproduce the contents of our website without any express permission.
Simplex Wire Rope Clip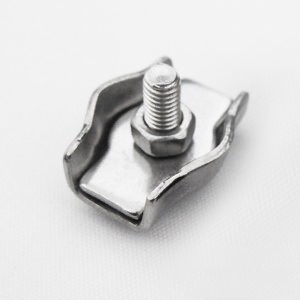 Item Number: 107
Size: 2mm-10mm
Material: AISI304 / AISI316
Product Description:

Simplex wire rope clip is made by plate and wire forming, so the production speed is very fast, price is also lower. Please note they are only suitable for 7*19 construction wire rope in general.
Product Specifications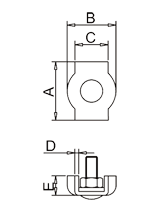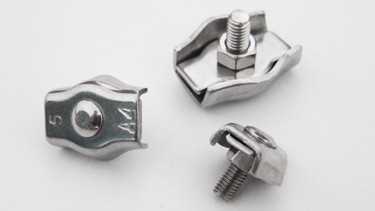 RopeΦ
A
B
C
D
E
Bolt
WT
Price
mm
mm
mm
mm
mm
mm
mm
kg
SS304
SS316
2
15
12
7
1
5
M4×13
0.004
$0.09
$0.12
3
17
15
9
1
6
M4×13
0.006
$0.10
$0.13
4
20
19
12
1.5
6
M5×17
0.010
$0.15
$0.21
5
25
20
14
1.5
8
M5×17
0.013
$0.18
$0.25
6
30
25
17
2
9.5
M6×22
0.027
$0.25
$0.35
8
38
31
23
2
10
M8×29
0.046
$0.43
$0.60
10
48
38
27
2.5
14
M10×31
0.090
$0.74
$1.03
Related Products