Home
>
Products
>
Ferrules and Tools
> US 8-Shape Aluminum Ferrule
PRODUCT CATEGORIES
NOTE
※ Please be aware that there may be deviation and tolerance in noted measurements.
※ The breaking load is approximate, and will change depending on usage situation and environment. In addition, in the event test data is required, please make a separate request, and extra cost will be generated.
※ Specifications may change without prior notification.
※ Photos could show our products very clearly, but there may be a little difference in style because of different specifications.
※ Please do not copy and reproduce the contents of our website without any express permission.
US 8-Shape Aluminum Ferrule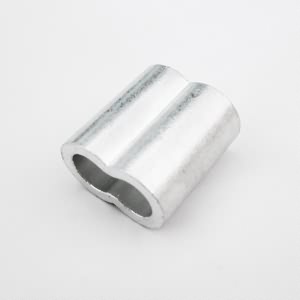 Item Number: 130
Size: 3/64"-5/8"
Material: Aluminium
Product Description:

Us 8-shape aluminum ferrule can fit wire sizes from 3/64" to 5/8" for every project. Please choose the corresponding specifications according to the diameter of the wire rope.
Product Specifications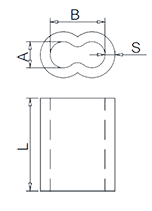 | RopeΦ | A | B | S | L | WT |
| --- | --- | --- | --- | --- | --- |
| inch | mm | mm | mm | mm | kg/1000PCS |
| 3/64 | 1.59 | 3.18 | 1.01 | 9.5 | 0.276 |
| 1/16 | 1.98 | 3.97 | 1.22 | 9.5 | 0.433 |
| 5/64 | 2.38 | 4.76 | 1.57 | 9.5 | 0.645 |
| 3/32 | 3.18 | 6.35 | 1.98 | 12.7 | 1.450 |
| 1/8 | 3.97 | 7.94 | 2.38 | 15.8 | 2.700 |
| 5/32 | 4.76 | 9.53 | 2.38 | 17.4 | 3.670 |
| 3/16 | 5.56 | 11.11 | 2.80 | 25.4 | 7.180 |
| 7/32 | 6.35 | 12.70 | 3.15 | 26.9 | 10.000 |
| 1/4 | 7.14 | 14.29 | 3.15 | 28.5 | 11.760 |
| 9/32 | 7.94 | 15.88 | 3.15 | 30.1 | 13.620 |
| 5/16 | 9.53 | 19.05 | 3.58 | 31.7 | 20.940 |
| 3/8 | 11.11 | 22.23 | 3.58 | 36.5 | 28.180 |
| 7/16 | 12.70 | 25.40 | 5.55 | 42.8 | 52.000 |
| 1/2 | 14.29 | 28.58 | 6.36 | 50.8 | 80.150 |
| 9/16 | 15.88 | 31.75 | 6.36 | 53.9 | 99.880 |
| 5/8 | 17.46 | 34.93 | 7.14 | 63.5 | 139.780 |
Related Products