Home
>
Products
>
Pipe Fittings
> Hose Clamp
PRODUCT CATEGORIES
NOTE
※ Please be aware that there may be deviation and tolerance in noted measurements.
※ The breaking load is approximate, and will change depending on usage situation and environment. In addition, in the event test data is required, please make a separate request, and extra cost will be generated.
※ Specifications may change without prior notification.
※ Photos could show our products very clearly, but there may be a little difference in style because of different specifications.
※ Please do not copy and reproduce the contents of our website without any express permission.
Hose Clamp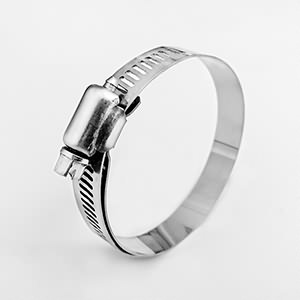 Item Number: 813
Size: Φ6-Φ900
Material: AISI304 / AISI316
Product Description:

Hose clamp is used in a variety of automotive and industrial applications to secure hose and tube connections to ensure a tight fit and prevent fluid and air from leaking. They have housed, helical-threaded screw that engages with the slots in the band and tightens the band as the screw turns. They are non-permanent and remove in the same way they are installed, easing maintenance.
Product Specifications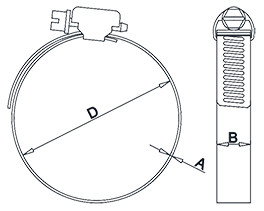 | Size(ΦD) | A | B |
| --- | --- | --- |
| mm | mm | mm |
| 6-12 | 0.6 | 8 |
| 10-16 | 0.6 | 8 |
| 13-19 | 0.6 | 8 |
| 16-25 | 0.6 | 8 |
| 19-29 | 0.6 | 8 |
| 13-23 | 0.6 | 12 |
| 14-27 | 0.6 | 12 |
| 18-32 | 0.6 | 12 |
| 21-38 | 0.6 | 12 |
| 21-44 | 0.6 | 12 |
| 27-51 | 0.6 | 12 |
| 33-57 | 0.6 | 12 |
| 40-63 | 0.6 | 12 |
| 46-70 | 0.6 | 12 |
| 52-76 | 0.6 | 12 |
| 59-82 | 0.6 | 12 |
| 65-89 | 0.6 | 12 |
| 72-95 | 0.6 | 12 |
| 78-101 | 0.6 | 12 |
| 84-108 | 0.6 | 12 |
| 91-114 | 0.6 | 12 |
| 105-127 | 0.6 | 12 |
| 118-140 | 0.6 | 12 |
| 130-152 | 0.6 | 12 |
| 141-165 | 0.6 | 12 |
| 155-178 | 0.6 | 12 |
| 175-197 | 0.6 | 12 |
| 194-216 | 0.6 | 12 |
| 213-235 | 0.6 | 12 |
| 232-254 | 0.6 | 12 |
| 251-273 | 0.6 | 12 |
| 270-292 | 0.6 | 12 |
| 289-311 | 0.6 | 12 |
| 300-400 | 0.6 | 12 |
| 400-500 | 0.6 | 12 |
| 150-250 | 0.6 | 12 |
| 250-350 | 0.6 | 12 |
| 350-450 | 0.6 | 12 |
| 450-550 | 0.6 | 12 |
| 500-600 | 0.6 | 12 |
| 600-700 | 0.6 | 12 |
| 700-800 | 0.6 | 12 |
| 800-900 | 0.6 | 12 |
Related Products