Home
>
Products
>
Pipe Fittings
> Heavy Duty Hose Clamp
PRODUCT CATEGORIES
NOTE
※ Please be aware that there may be deviation and tolerance in noted measurements.
※ The breaking load is approximate, and will change depending on usage situation and environment. In addition, in the event test data is required, please make a separate request, and extra cost will be generated.
※ Specifications may change without prior notification.
※ Photos could show our products very clearly, but there may be a little difference in style because of different specifications.
※ Please do not copy and reproduce the contents of our website without any express permission.
Heavy Duty Hose Clamp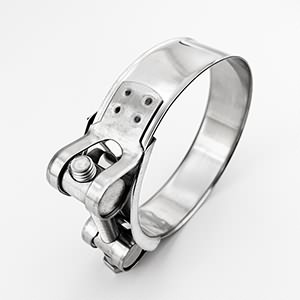 Item Number: 814
Size: Φ17-Φ252
Material: AISI304 / AISI316
Product Description:

Heavy duty hose clamp also known as fuel injection clamps, ensure uniform sealing pressure. These clamps close with a nut and bolt fastener. They have a solid band with rolled edges to prevent damage to the hose.
Product Specifications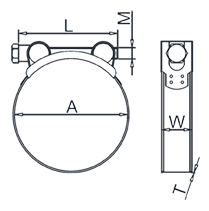 | Size(ΦA) | T | W | M | L |
| --- | --- | --- | --- | --- |
| mm | mm | mm | mm | mm |
| 17-19 | 0.6 | 18 | M5 | 40 |
| 20-22 | 0.6 | 18 | M5 | 40 |
| 23-25 | 0.6 | 18 | M5 | 40 |
| 26-28 | 0.6 | 18 | M5 | 40 |
| 29-31 | 0.6 | 20 | M6 | 50 |
| 32-35 | 0.6 | 20 | M6 | 50 |
| 36-39 | 0.6 | 20 | M6 | 50 |
| 40-43 | 0.6 | 20 | M6 | 50 |
| 44-47 | 0.8 | 22 | M6 | 60 |
| 48-51 | 0.8 | 22 | M6 | 60 |
| 52-55 | 0.8 | 22 | M6 | 60 |
| 56-59 | 0.8 | 22 | M6 | 60 |
| 60-63 | 0.8 | 22 | M6 | 60 |
| 64-67 | 0.8 | 22 | M6 | 60 |
| 68-73 | 0.8 | 24 | M8 | 70 |
| 74-79 | 0.8 | 24 | M8 | 70 |
| 80-85 | 0.8 | 24 | M8 | 70 |
| 86-91 | 0.8 | 24 | M8 | 70 |
| 92-97 | 0.8 | 24 | M8 | 70 |
| 98-103 | 0.8 | 24 | M8 | 80 |
| 104-112 | 0.8 | 24 | M8 | 80 |
| 113-121 | 0.8 | 24 | M8 | 80 |
| 122-130 | 0.8 | 24 | M8 | 80 |
| 131-139 | 1 | 24 | M10 | 90 |
| 140-148 | 1 | 24 | M10 | 90 |
| 149-161 | 1 | 24 | M10 | 90 |
| 162-174 | 1 | 24 | M10 | 90 |
| 175-187 | 1 | 24 | M10 | 100 |
| 188-200 | 1 | 24 | M10 | 100 |
| 201-213 | 1 | 24 | M10 | 100 |
| 214-226 | 1 | 24 | M10 | 100 |
| 227-239 | 1 | 24 | M10 | 100 |
| 240-252 | 1 | 24 | M10 | 100 |
Related Products