Home
>
Products
>
Lifting Eyes
> GB825 Lifting Eye Bolt
PRODUCT CATEGORIES
NOTE
※ Please be aware that there may be deviation and tolerance in noted measurements.
※ The breaking load is approximate, and will change depending on usage situation and environment. In addition, in the event test data is required, please make a separate request, and extra cost will be generated.
※ Specifications may change without prior notification.
※ Photos could show our products very clearly, but there may be a little difference in style because of different specifications.
※ Please do not copy and reproduce the contents of our website without any express permission.
GB825 Lifting Eye Bolt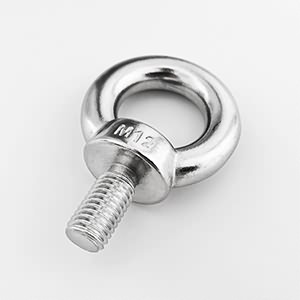 Item Number: 554
Size: M8-M36
Material: AISI304 / AISI316
Product Description:

GB825 lifting eye bolt is the most widely used kind of rigging hardware in China and specifically suited for lifting some heavy objects like machine, furniture, electric motor, metal mold, distribution panel, appliance...
Product Specifications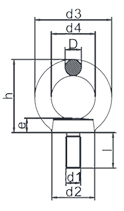 Size(d1)
d2
d3
d4
h
e
l
ΦD
BL
WT
Price
mm
mm
mm
mm
mm
mm
mm
mm
kg
kg
SS304
SS316
M8
20
35
20
35
8
16
8
2400
0.045
$0.47
$0.66
M10
25
45
25
44
10
20
10
4000
0.095
$0.83
$1.16
M12
29
53
30
52
11
22
12
5400
0.161
$1.40
$1.96
M16
34
61
35
60
13
28
14
9000
0.273
$2.18
$3.06
M20
40
72
40
71
16
35
16
13000
0.444
$3.39
$4.75
M24
47
87
48
87
19
40
20
18000
0.733
$5.59
$7.83
M30
54
104
54
105
30
45
24
26000
1.400
$10.80
$15.20
M36
75
126
70
126
30
54
28
-
2.680
$22.10
$31.00
M42
82
141
79
137
31.5
65
31
-
3.400
$30.00
$42.00
Related Products