Home
>
Products
>
Bolts & Screws
> Cross Recess Pan Head Tapping Screw DIN7981
PRODUCT CATEGORIES
NOTE
※ Please be aware that there may be deviation and tolerance in noted measurements.
※ The breaking load is approximate, and will change depending on usage situation and environment. In addition, in the event test data is required, please make a separate request, and extra cost will be generated.
※ Specifications may change without prior notification.
※ Photos could show our products very clearly, but there may be a little difference in style because of different specifications.
※ Please do not copy and reproduce the contents of our website without any express permission.
Cross Recess Pan Head Tapping Screw DIN7981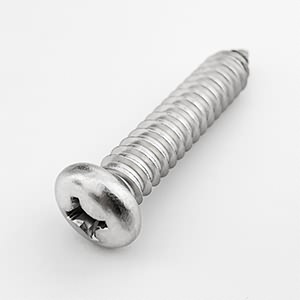 Item Number: 559
Size: ST2.2-ST6.3
Material: AISI304 / AISI316
Product Description:

Cross recess pan head tapping screw DIN7981 can easily drill into wood. It provides good adhesion in different wood, plastic, and other man-made materials. Excellent performance enables users to rely on one product to achieve multiple applications.
Product Specifications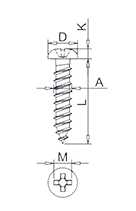 | Size(A) | D | K | M | L |
| --- | --- | --- | --- | --- |
| mm | mm | mm | mm | mm |
| ST2.2 | 4 | 1.5 | 1.9 | 4.2-22 |
| ST2.9 | 5.6 | 2.3 | 3 | 5.5-35 |
| ST3.5 | 7 | 2.5 | 3.9 | 6.5-60 |
| ST3.9 | 7.5 | 2.7 | 4.2 | 6.5-60 |
| ST4.2 | 8 | 2.9 | 4.4 | 9.5-75 |
| ST4.8 | 9.5 | 3.5 | 4.9 | 9.5-100 |
| ST5.5 | 11 | 3.8 | 6.4 | 13-100 |
| ST6.3 | 12 | 4.4 | 6.9 | 13-80 |
Related Products