Home
>
Products
>
Filler & Outlet
> Thru-hull with Hose Connection
PRODUCT CATEGORIES
NOTE
※ Please be aware that there may be deviation and tolerance in noted measurements.
※ The breaking load is approximate, and will change depending on usage situation and environment. In addition, in the event test data is required, please make a separate request, and extra cost will be generated.
※ Specifications may change without prior notification.
※ Photos could show our products very clearly, but there may be a little difference in style because of different specifications.
※ Please do not copy and reproduce the contents of our website without any express permission.
Thru-hull with Hose Connection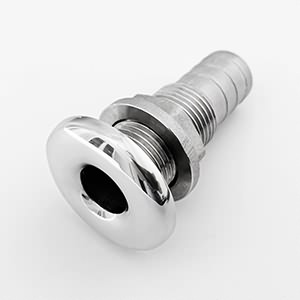 Item Number: 863
Size: 1/2" - 2"
Material: AISI316
Product Description:

Thru-hull with hose connection is a metal device composed of a threaded tube and washers. It connects pump hoses, outlets, sensors or other instruments or machinery within the hull to the exterior. It can be situated below or above the waterline.
Product Specifications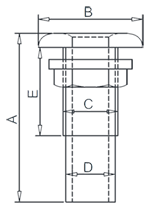 | Size | A | B | C | D | E |
| --- | --- | --- | --- | --- | --- |
| inch | mm | mm | mm | mm | mm |
| 1/2" | 58 | 35 | 16.5 | 14 | 31 |
| 3/4" | 63 | 40 | 21 | 18.5 | 33 |
| 7/8" | 75 | 49 | 26.2 | 23 | 42 |
| 1" | 78 | 54 | 33 | 26 | 43 |
| 1-1/4" | 85 | 57 | 42 | 33.5 | 47 |
| 1-1/2" | 85 | 63 | 42 | 39.5 | 47 |
| 1-3/4" | 87 | 71 | 49 | 46 | 48 |
| 2" | 100 | 85 | 59 | 52 | 50 |
Related Products